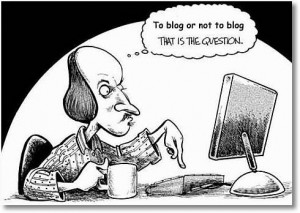 Photo: courtesy of CoxAndForkum.com
It's been 1 year, 1 month and 1 day from my last post and my experiment is over. My experiment first started as a simple time management issue, I didn't make time to write on 9/10/09 or 9/11/09, which would have been a great to write and pay tribute to the day that changed the world  forever, or the following day, month, and now a year.
However within the first week, I thought to myself if the common convention today is write a blog consistently and have instant Social Influence, I wanted to see if I didn't blog consistently what would happen.
If I didn't "blog" 300 words per post on a 3 day per week schedule would I somehow be less of a Social Media Maven.
The short answer is Yes however the long (tail) answer is No.
Yes blogging is probably one of the easiest ways to get recognized for what your passionate about, chronicle your expertise and build an online following.  As your following grows you essentially become the community manager of your personal brand.
The essence of a blog is this:
You write, ideally contributing something of value to your reader(s),
The reader(s) in turn subscribes to your ideas and spread the word to others
Over time, the more you contribute valuable ideas to your readers the more they start transitioning from just readers to a community
The more you encourage and get feedback i.e. comments / tweets / retweets / facebook likes / etc the more active your community becomes and the more you become a community manager
Lastly the more the community becomes passionate about your ideas and community you have created the more influential you, the blogger, become
Now granted this is an extremely high level perspective of the essence of Blogging but the point is consistently blog valuable information to a growing number of people and become influential socially or is that socially influential?
According to the social encyclopedia, wikipedia Social Influence is quite simply "when an individual's thoughts, feelings or actions are affected by other people."
So in theory is that the more people "subscribe" to your ideas the more Socially Influential you become.
Now that is the short answer, however the long answer is that there are many ways to contribute and share ideas, blogging just makes it scalable on a world wide level.
I believe in the do what you do best and outsource the rest philosophy.  And instead of blogging for a global audience, I focused on developing my online social influence by focusing on my offline influence locally, here in Boston.
In last weeks Inbound Marketing Summit there was a lot of buzz around this concept of Offline affecting Online. The relationships you establish offline definitely affects your relationships online.
And even though I didn't blog consistently I was still able to contribute to the Social Media ecosystem and accomplish my goals.
Here are just a few highlights of my non-blogging one year experiment.
If I was able to accomplish/ contribute these things without a blog, think of what you can accomplish. So forget about yesterday and what you didn't do and focus on the future and what you can do. If you haven't done what you set out to do last year, setup a plan to accomplish it this year, whether it's blogging, writing a book, going to more offline events like tweetups, etc.
I choose to grow my online influence by focusing on my offline activities.  On average I support/attend 2-3 offline tweetups/events in Boston area a night
Now that my one year experiment is over, you will see more contributions from me here on my blog on a more consistent basis.
What do you think? Do you need to blog everyday or 3 times a week to develop/grow your social influence? If not, what other ways can you  grow your Social influence?http://joselinmane.com/blogging-1-year-effect-social-influence/http://joselinmane.com/blogging-1-year-effect-social-influence/ seo analysis domain name owners .